I am an ambidextrous visual artist and art educator from India with over 7 years of experience in the field. I have degree Master's in Fine Art from Oxford Brookes University (2022), and a Bachelor's in Visual Arts from Stella Maris College (2015), specialising in Painting. With two solo exhibitions and numerous group shows, my works are a part of collections both nationally and internationally. My artwork is rooted in life experiences, complexities of human nature, concepts relating to the changes in society, nostalgia and memory.
My portfolio includes commissioned paintings and projects, collaborations with architects and interior designers, book illustrations, wall murals, graphic design projects, and community art projects. I have experimented and explored interdisciplinary fields in order to diversify and expand my practice. 
As an art educator, I strongly believe that teaching art (and more importantly, how to think) to students will result in a profound impact on our society and culture. Having taught at various levels, I see that art is not only lacking as a subject, but also the method of rote learning is adopted, which is damaging to creative thinking. With my courses and workshops, I aim to provide my students with critical thinking skills as well as technical skill development. I am committed to developing my art practice further and am equally passionate about improving art education to make it more inclusive and accessible for all.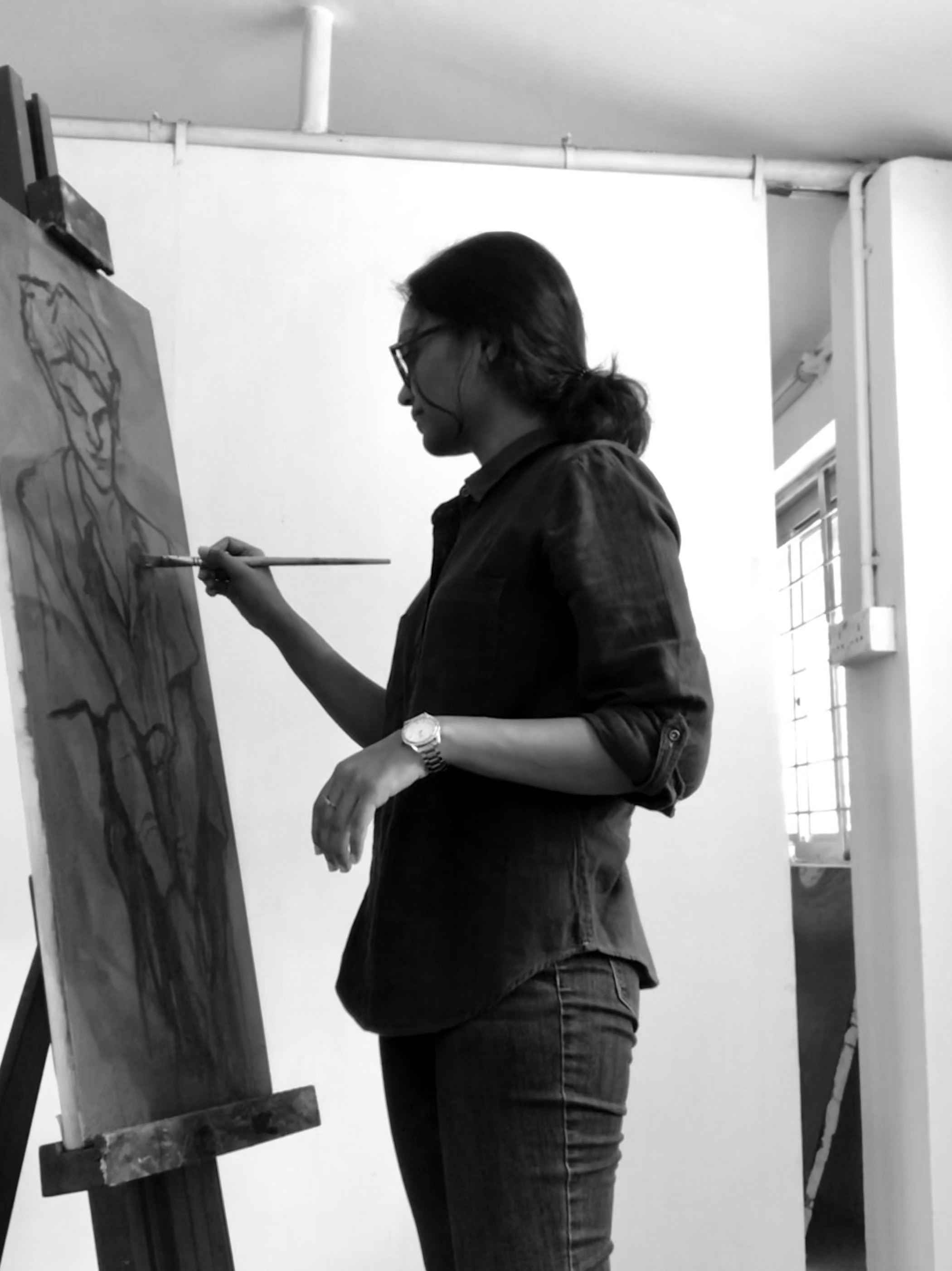 It has been a journey to unlearn certain things in order to find my voice, but the last couple of years has taught me a lot.  I describe my pieces as 'conversations with myself' – as my work arises from a mind map of thoughts that aren't linear and hence hard to define. Most of my paintings appear figurative and representational but are aimed at what lies beyond the visual.
Apart from my life experiences, I draw inspiration from literature and music. I use symbolism to create an allegory in my work. I tend to question issues of identity and the defined structure existing in society. Some pieces are more of a commentary on the issues present in politics, the society, the economy or the environment.
For me, the surface becomes a diary that condenses different moments and decisions I take in the studio. Mistakes, successes and discoveries – these are all engaged within it. This is a process of construction and deconstruction, of removing material and putting it on, of falling in love with an idea and then watching it change. My recent approach to painting is organic; I search for a tension that exists within the process of making decisions in the work and arrive at this point through chance. On some days it is like a conversation with an old friend, on other days it is like escaping from the devil. Painting is a condensation of that type of time.
My practice currently is driven by anxiety and stress. I focus on the material I'm using and find the process almost meditative. The goal isn't to say something meaningful with my art, but to calm the demons within. This way I'm more open to experimentation and challenge myself to do things such as draw with both hands simultaneously. I've discovered that I'm ambidextrous and I plan on exploring this ability in the realms of painting. My continual traversing of different mediums and art languages allows me space to explore and play, with an aim of pushing my practice.